Get the best quality drinking water in the cottage or in the boat with Filopur water filter.
Filopur water filters are easy to install and require no professional help. With their flexibility with installation and use, these are perfect for the cottage, motorhome and boat. Clean water is a must for our health and well-being, these water filters remove pollutants, flavors and odors. Read more about the specific areas and how they can help you for your particular water and needs.
• FILOPUR is easy to install to the water tap or in the water system
• Removes chemical and bacteriological contaminants as well as unpleasant tastes and odors
• Significantly reduces harmful substances such as pesticides, heavy metals, chlorine, viruses, bacteria (cryptosporidium), dyes and turbidities, lime and rust particles below 1/1000 mm
• Retains natural minerals and salts in the drinking water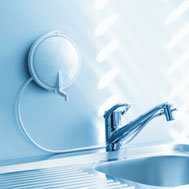 HU-line – connect to the tap
Read more:
Guide for installation and replacement of water filters without professional help:
Installation of Filopur HU water filter:
Exchange of Filopur HA water filter:
Regeneration of filter cartridge CN, CK & CNK:
Installation of Filopur water filter in the shower:
Exchange of Filopur waterfilter in the shower:
Further information about Filopur's water filter can be found at filopur.com.